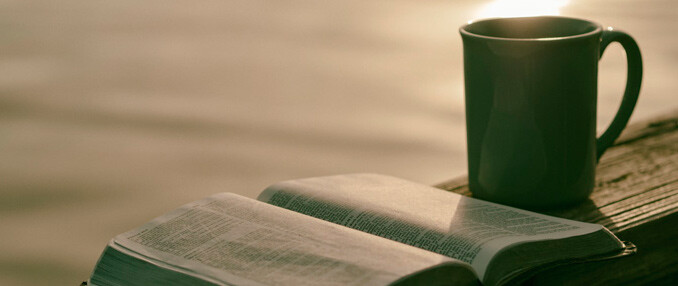 Joe Infranco
Pastor of Adult Education
For the word of God is living and active, sharper than any two-edged sword, piercing to the division of soul and of spirit, of joints and of marrow, and discerning the thoughts and intentions of the heart. And no creature is hidden from his sight, but all are naked and exposed to the eyes of him to whom we must give account. (Hebrews 4:12-13)
How often do you clean out junk that's damaged or out of date? Everything we own breaks or needs maintenance eventually. Was that tie or dress really in style once? It sure isn't now. It's just a fact of life - no physical object in this world is truly "timeless." It's the same with living things; everything in this world that has life will also perish, or die.
But that's not how the Word of God works. It is truly timeless, and never out of date. It never dies, and remains alive and powerful doing its work in human hearts. The writer of Hebrews wants us to see this, but also to explain what the Word of God will do in our lives. The writer points out four important truths.
This Word is not only living, but also active, or powerful. We use caution in handling things described that way. Something powerful can have a big impact.


It is also sharp - in fact, sharper than a two-edged sword. Swords in Bible times were kept very sharp, honed against rocks, to have maximum cutting power. But this living Word will cut even more deeply.


How? By dividing "soul and spirit" which means it will discern (that is, figure out and expose) the thoughts and intentions of the heart. When the Bible refers to "heart" here, it means the sum of our thoughts, emotions, and character - in short, what we really are.


The Word does something else as well - it exposes all we are before a Holy and Righteous God. There is no hiding from him, and our every action and thought is exposed.
Might reading the Word of God make us uncomfortable at times? Yes! It's designed to do that so we can understand our motives and surrender to God and be made more in the image of Jesus Christ. The Word of God shows us our character, not to make us hide from God in guilt. It's just the opposite. God's Word brings us life and joy by allowing us to see the places we need to surrender and trust God. He will do the work in us!
Let's ask these questions to improve how we allow the Word of God to work in us.
Do I read my Bible faithfully?
Do I make it a priority in my schedule to spend time in the Word and meditate on it?
Do I study the Word to show myself a "workman approved to God"?
Am I in a Bible study, or do I have persons whom I trust and can go to with questions?
When the Word exposes something in my life, how do I respond? Do I ignore it if it presses too close for comfort, or do I see my need and trust God to help me in that area?
Am I committed to draw closer to God as I learn more about him in his Word?
Is my Bible reading more of an exercise or duty (I need to do two chapters today), or do I focus on how what I read draws me closer in intimacy to God?
Prayer: Father, help me to faithfully desire your Word, and in reading it to come to both understand and know you more closely. Help me with my human weakness and frailty, and the things where I try to hold on to the world's values or thinking. Let your Word transform me daily, more and more into the image of your Son, Jesus Christ. Make my heart tender to receive your instruction, and to understand the riches and depth of the love you have for me. Thank you for the gift of your Word, and how it exposes and transforms my heart.