Special Needs
Our mission is to lovingly share Christ with God's unique individuals, both children and adults, to grow them spiritually, and provide them with opportunities to serve and be served. It is the desire of the ministry to be a lighthouse of hope, acceptance and belonging for individuals with special needs and their families, so they may experience the love of Jesus and excel to their greatest potential, becoming all God desires them to be.
Check out this news report from AZ Family on our ministry!
Night to Shine PHOTOS
We had an amazing night celebrating at our prom for individuals with special needs in partnership with the Tim Tebow Foundation! Check out the photo galleries below:
Sundays
Volunteers provide a safe and loving atmosphere for children and adults with special needs to learn and experience the love of Jesus Christ. Volunteers assist individuals with any extra help needed within regular Sunday School classrooms or worship services, and a self-contained classroom is also available with trained volunteers for direct one to one attention.
Highlands' Special Needs Ministry team is available for both the 9:00am and 10:45am service times as well as most special church-wide events - contact with any questions.
Cowboy Sunday
We are thrilled to be partnering with Reigning Grace Ranch to bring horseback riding to our community! Cowboy Sunday will occur once a month from 1:00-3:00pm. We will provide barbecue, horseback riding, fellowship, and community to individuals with special needs and their families. If you are interested in attending a Cowboy Sunday, please register for one Sunday. Once you have registered, you will receive a confirmation email with more information.
If you are interested in attending a Cowboy Sunday, click on a date below to register! Please only register for one Sunday.
We also need volunteers for Cowboy Sunday! If you are interested in helping our friends with special needs ride horses, register below!
All volunteers must attend a volunteer training session. The training session information is listed below:
Thursday, Oct 4th 6:30-8:30pm @ Reigning Grace Ranch-Horse Experience required - Lead training
Sunday Oct 7th 12:30-2:30pm @ Highlands - No horse experience required - Side walk training. (Horse on Campus)
Questions? Contact Kelsey Ankrom at .
Boots and Bows: Father Daughter dance
On March 29th, join us for our annual Father Daughter Dance! This year's theme is Boots and Bows. From 6:00-8:30pm, enjoy dancing, dinner, and a night out with your daughter.
Cost is $20 per family.
Ongoing Programs
Parent Connect
1st Sunday of Each Month | 10:45am | Office Conference Room
This group is a time for parents and caregivers of individuals with special needs to come together and share the joys and challenges of the special needs journey. This group is facilitated by Dan and Monica Cluff, parents of an adult son with special needs. For more information, please contact Missy Farrington at or call 602-820-3345.
MidWeek Madness
Wednesdays 6:30-8:00pm during the school year
Bible lessons, games, crafts and social opportunities for children of all ages with special needs.
Friends.
A fun group that brings people with and without special needs together as friends...period! This peer group encourages Jr High and High School aged students to make a commitment to friendship, participating once a month on Sunday mornings and social activities throughout the year. For more information and to participate in the application process please contact Missy Farrington at 602-820-3345 or .
August 26th at 12:00pm - training for Junior High and High School Friends.
September 9th at 10:45am - Kickoff for Friends.
September 30th - Social Event TBD.
March 31st - Social Event TBD.
Wednesday Night Friendship Group
6:30-8:00pm Wednesdays
Our teens and adults with special needs will meet every Wednesday to socialize and have a Bible Study.
Respite
Offered quarterly, respite is an opportunity for parents to bring their children with special needs to Highlands for a fun-filled event so parents can have an evening to themselves. Reservations are required - contact .
Our Staff
Our director, Missy Farrington, has a Master's Degree in Special Education and a certificate in Disability Ministry. We have many other professionals volunteering in our ministry as well. Our loving volunteers are trained by Missy and other special education professionals. Contact Missy at
Helpful Forms
Highlands is an Irresistible Church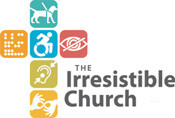 Our partners at Joni & Friends of Arizona define an irresistible church as an authentic community built on the hope of Christ that compels people affected by disability to fully belong. If you have a special need or care for someone who does, come find out why the irresistible Special Needs ministry of Highlands can make a life-changing difference!
---

Missy Farrington, Director of Special Needs