Children's Area Remodel
At Highlands, we recognize that God has placed us in a specific place at a specific time to carry out His mission right here. He's blessed us with land and facilities where we can devote 100% of our energy to sharing the gospel. We want this to be a place where our community and neighbors can come, grow, experience the love of Christ, and be encouraged by the gospel.
So as we look at our neighborhood and our vision, we're taking an exciting step to do something with our facilities that will invite and encourage more families to our campus where they can encounter the gospel.
The remodel of our Children's Building and playground area is a result of months of planning and prayer, including interviews with some Highlands families and studies of the surrounding communities to learn about how we can create the most welcoming environment possible.
DETAILS OF THE REMODEL
When our Children's building was first built, it was created not as a Children's building, but as an adult education space. And while it has served us well over the last 12 years, and our Highlands Kids team has made the very best of it, the fact remains that its current configuration isn't the best for a great kids program.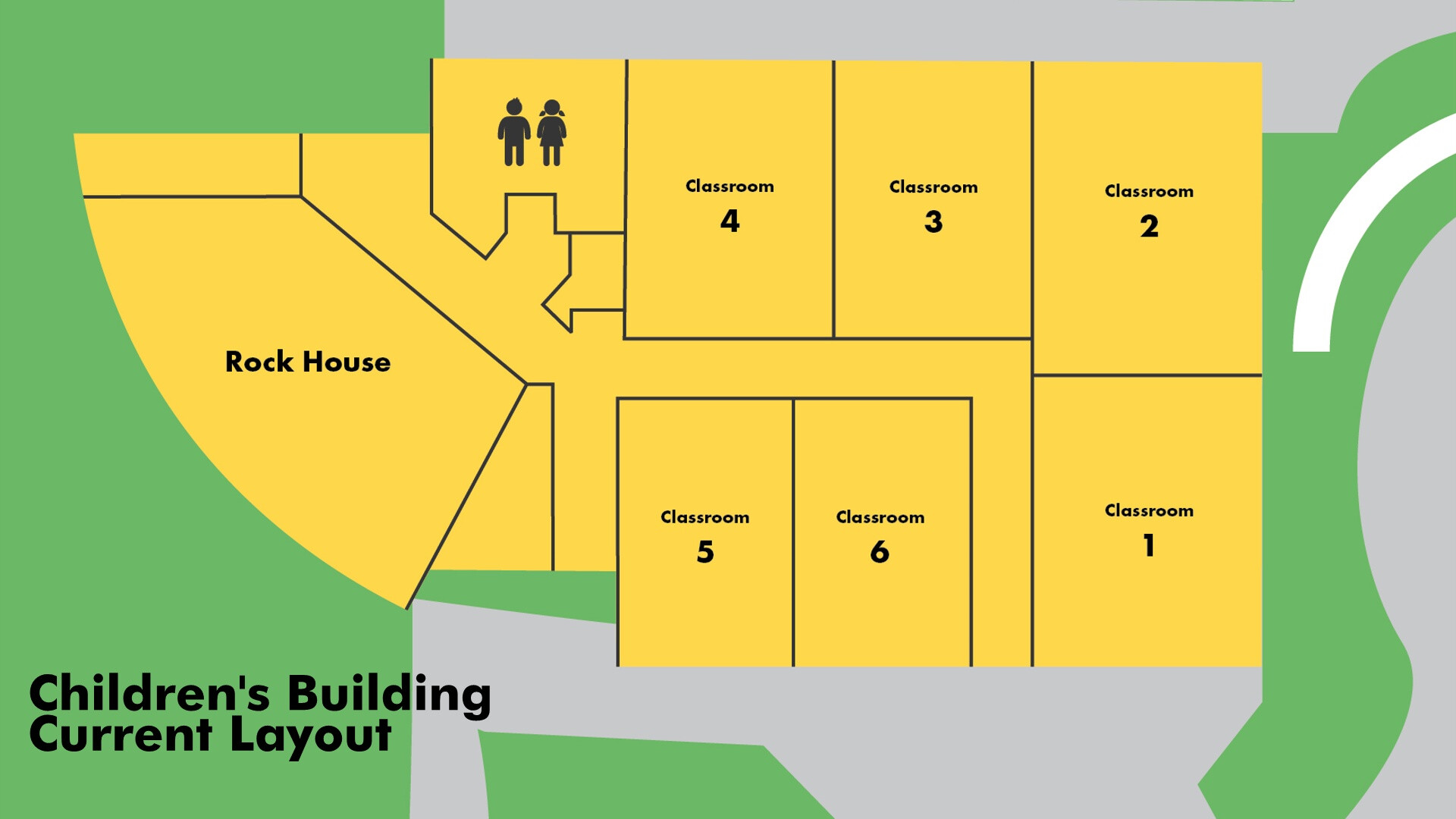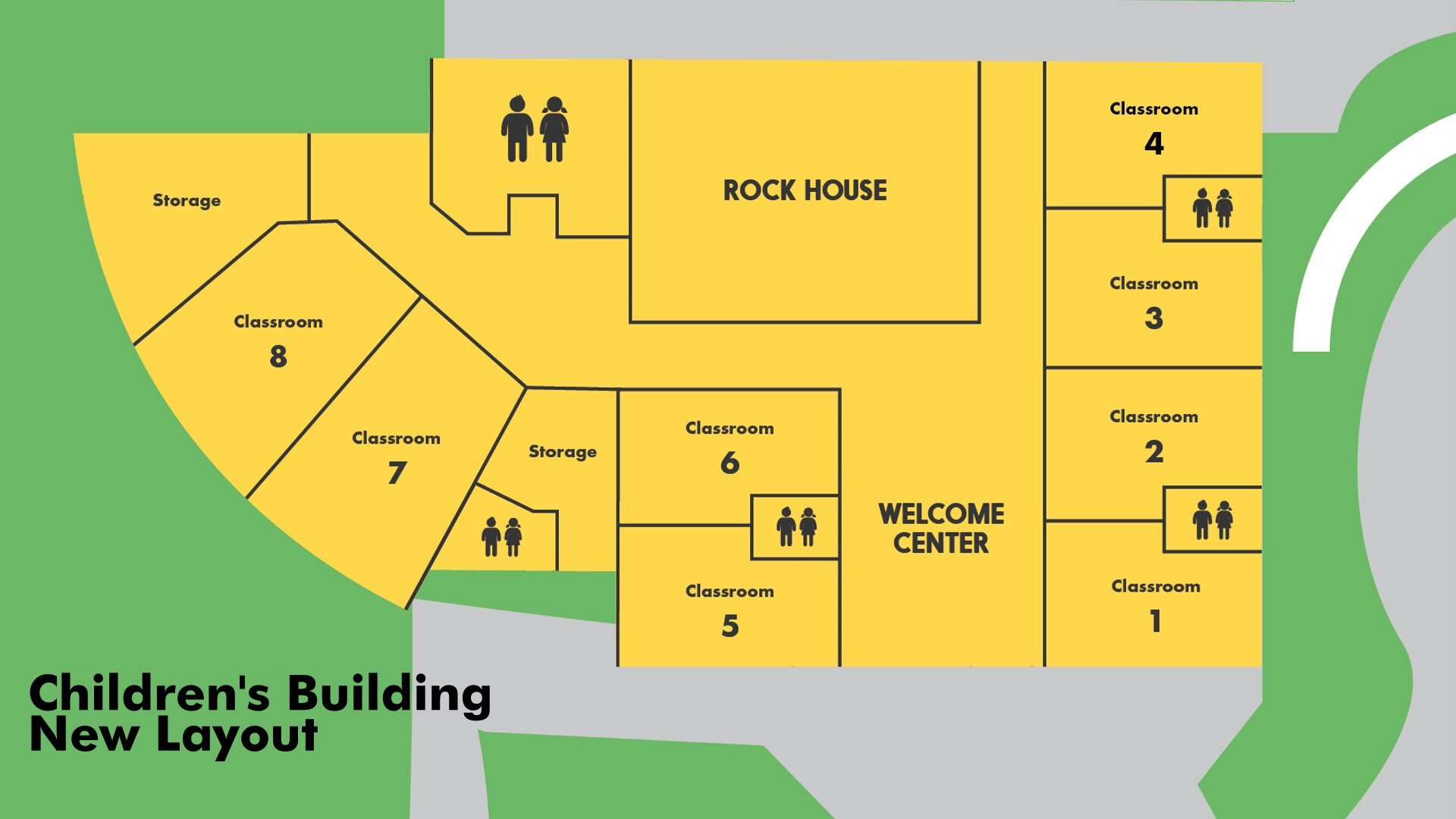 While the building exterior will remain the same, the remodel will radically transform the interior. Features will include:
Two additional classrooms created to serve more families.
Large group gathering space moved central to the building's activity.
Expanded Welcome Area - more parent-friendly - especially for first-time families - creating a space for families to connect, an improved check-in process with an emphasis on safety and a smooth transition for kids to their classrooms
The majority of classrooms will feature in-room bathrooms, increasing safety and class time
Aesthetic changes will create a vibrant, exciting environment that kids will love
And while we're excited for those changes to the children's building and how that's going to greatly improve the space, we think there's going to be equal amounts - if not more - excitement for what will happen outside in our playground area.
Nearly double the playspace square footage
Fencing around the entire perimeter for safety and controlled access
Soft artificial turf (no more wood chips kids shoes!)
Primary playground structure will be a "Universal Playground" - equipment that allows individuals with special needs - including wheelchair users - to have full use of the equipment and play right alongside their peers
This universal playground will be the only publicly-accessible universal playground in Scottsdale and North Phoenix.
Splash pad added for family fun even in the hottest months of the year (don't worry - it will be on a timer to avoid unintended use)
Outdoor-facing bathroom for families to use even when the children's building is closed
We hope and pray that this updated outdoor playground area represents a perfect meet-up space for parents throughout the week, including families with special needs.
We want to serve our community with our facility and share the gospel with as many people as we possibly can. Every step of the way, we envision opportunities to meet new families, welcome them to our church family, and share the hope we have in Jesus Christ.
Check out what some Highlands families have to say about the impact this project will have:
INVESTING IN THE GOSPEL
We invite you to participate with us in providing this to our community. This project represents 20,000 square feet of renovated space (12,000 square feet indoors, 8,000 square feet outdoors), and will cost approximately $1.3 million. We see this as an investment in the gospel work God calls us to be doing in our community. Highlands won't be taking on any debt for this project - God continues to provide and we're excited to invest in the Kingdom work He's put in front of us.
If you'd like to give to this project above and beyond your regular faithful giving, you can simply write "Children's Area Remodel" on your check or giving envelope. You can also give online at highlandschurch.org/give - you'll see a menu that drops down that lets you choose either the general fund or special giving projects, and the children's area remodel is in that list.
CONSTRUCTION TIMELINE
The construction process for this project is going to require some sacrifice. We expect the construction process to begin before the end of the year and continue until sometime next summer. Our Highlands Kids team has been working hard over the last couple of months to plan for how we'll run our programming during construction.
During the construction process, infants through 4-year-olds will all check in at the Nursery area in the Worship Center on the north end of the lobby. Kids in kindergarten through 4th grade will all check in at the Senior High room of the Student building.
We believe this is an amazing opportunity for the gospel. We want to be good stewards of all that God has given us - and we want to do everything we can to follow the mission He's set before us.
Questions about the project? Contact our Pastor of Operations Matt Nuessle at .