Serve Our Community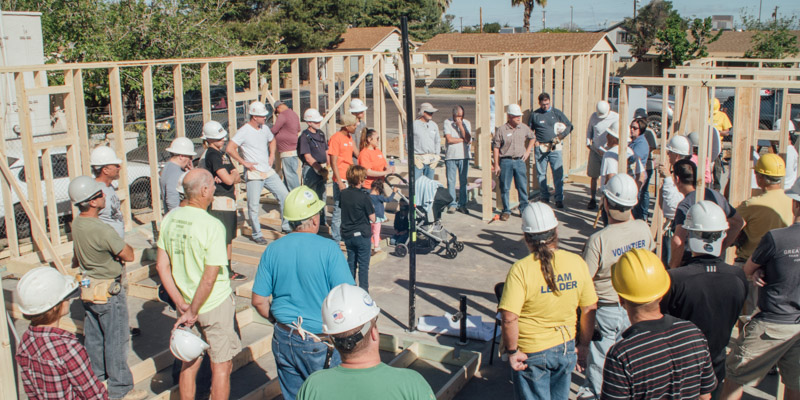 We have many opportunities to live your life on purpose and with mission. Whether you are a small group looking to serve together, a family wanting to demonstrate the love of Christ, or an individual wanting to join others in making a difference, we have a place for you.
Phoenix Rescue Mission
Phoenix Rescue Mission provides hope, healing, and new beginnings for those in our community struggling with homelessness, addiction, and trauma. Join us as we staff the farmers market for low income families, serve lunch to 250 homeless people or ride out on the streets of inner city Phoenix to deliver sack lunches.
Website: phoenixrescuemission.org
House of Refuge, House of Hope & House of Promise
House of Refuge, House of Hope & House of Promise provides a safe and sober transitional living environment while individuals are restored through God's presence in their life, full-time work, and fellowship with others. Volunteer as a mentor or Bible study facilitator, provide childcare help or kitchen help, or assist with maintenance/cleaning.
Website: refugeandhope.com
Jesus Cares
Make an impact on lives around the world, by sharing the love and hope of Jesus Christ through a one-on-one online chat forum. Serve from the convenience of your own home, with flexible 24X7 hours. Become a coach and let the Lord grow and stretch you in ways you never imagined!
Website: GroundWire.net/coaching and JesusCares.com.
Apartment Life
At Apartment Life, our passion is sending CARES Teams into apartment communities to change the world simply by loving their neighbors. Jesus said the greatest commandments are to love God with all your heart, soul, and mind and to love your neighbor as yourself (Matt. 22:37-40). What if He meant that we should love our ACTUAL neighbors?
Website: ApartmentLife.org
Matthew 25
Matthew 25 equips volunteers to meet the needs of the homeless. Join us on any third Saturday of the month to serve dinner to the homeless in Phoenix.
Website: matthew25az.org
Christian Family Care
Christian Family Care strengthens families and serves at-risk children in the name of Jesus Christ through adoption, foster care, respite care for foster parents, and volunteering to help out with day to day office duties.
Website: cfcare.org
Feed My Starving Children
Feed My Starving Children is a Christian non-profit organization committed to feeding God's children hungry in body and spirit. Volunteers hand-pack meals formulated for malnourished children which are sent to partners around the world where they're used to operate orphanages, schools, clinics and feeding programs.
Website: fmsc.org
Highlands Hope Initiatives
Highlands Hope Initiatives (HHI) provides assistance to individuals and families in need throughout Arizona including meeting basic needs, medical care, special needs programming and job assistance. It is funded by the AZ Charitable Tax Credit - claim your tax credit and help AZ families in need!
Contact: Cheryl Prince
Website: highlandshopeaz.org